Best Extrusion Plastometers- Melt Flow Index Testers
Purpose of Melt Flow Index Test
Melt Flow Index Test is a very simple method that helps to characterize the flow properties of the melted plastics. This test method is widely used for the quality assurance purposes and raw material resting. This test can be performed using high-quality of Melt Flow Index Testers. The demand of the extrusion plastometers such as Melt Flow Index Tester varies as per the requirement arises for different applications in various plastic industries.
Presto Stantest, one of the renowned manufacturers of testing machines, designs, and manufactures high quality of Melt Flow Index Tester as per various standards that are introduced by different standardization authorities such as ASTM D1238 – 13, ASTM D2839 – 10, IS 2530 (1963), IS 10810- 1984 (Part 23), IS 2267 – 1995, JIS K 7210.
ASTM D1238 – 13: Standard Test Method for Melt Flow Rates of Thermoplastics by Extrusion Plastometer
ASTM D2839 – 10: Standard Test method for using Melt Index Strand for Determining Density of Polyethylene
IS 2530 (1963): Standard procedure to test polyethylene molding materials and polyethylene compounds
IS 10810- 1984 (Part 23): Methods to test cables: Melt Flow Index
IS 2267 – 1995: Specifications for Polystyrene Moulding and Extrusion Materials
Technical Specification of the Instrument As per the Standards
Temperature Range : Ambient to 400ºC.
Sample cutting : Manual & Automatic.
Diameter of heater tube cavity : 2.095mm±0.005mm,
Dimensions of piston head : 47 mm diameter x 6.35 mm length
Weights : 2 kg, 2.16kg, 3.8kg, 5kg.
Paint : Powder coated.
Power : 230 Volts, 50 Hz, single phase
Timer : Pre-set cyclic timer with settings1 to 999s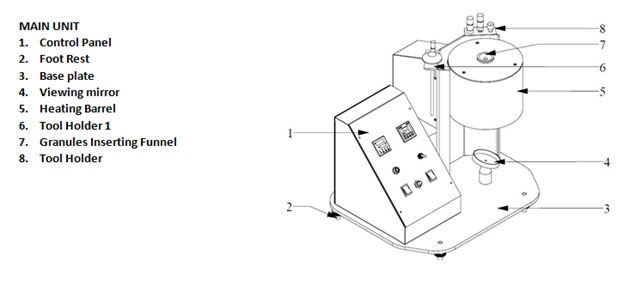 SET Standardized Time & Temperature of the Machine for different Products
Most thermoplastic materials do not require conditioning prior to testing. However, materials which contain volatile components, are chemically reactive, or have other special characteristics, may require appropriate conditioning. The moisture content in the test specimen not only affects the reproducibility of flow rate measurement but may also cause accelerated degradation of the material at the temperature used in testing.
If conditioning is necessary, condition the samples under standard laboratory conditions of 27 +/- 2ºC temperature and 65 +/- 5% RH, or as specified in the applicable material specifications.
As per the Standard ASTM 1238, the test conditions can be selected on the basis of the following table:
The selection of the test temperature and test load is done in accordance with the applicable material specification. The test condition selected shall be such that the flow rate of the material under test falls between 0.15 to 50gms in 9/10 minutes.
| | | | |
| --- | --- | --- | --- |
| Test Condition | Test Temperature (deg C) | Test Load | Recommended for (Kg) |
| 125/0.325 | 125 | 0.325 | Polyethylene |
| 125/2.16 | 125 | 2.16 | Polyethylene |
| 150/2.16 | 150 | 2.16 | Poly-vinyl acetal |
| 190/0.325 | 190 | 0.325 | Cellulose esters, Polyethylene |
| 190/1.05 | 190 | 1.05 | Acetals (copolymer & homopolymer) |
| 190/2.16 | 190 | 2.16 | Acetals (copolymer & homopolymer), cellulose esters, polyethylene |
| 190/5.0 | 190 | 5.0 | Polystyrene |
| 200/5.0 | 200 | 5.0 | Acrylonitrile-butadiene-styrene, polystyrene |
| 230/1.2 | 230 | 1.2 | Acrylics |
| 230/3.8 | 230 | 3.8 | Acrylonitrile/butadiene/styrene/polycarbonate blends. |
| 217.5/2.16 | 217.5 | 2.16 | Ethylene-chlorotrifluoroethylene copolymer |
| 297/5.0 | 297 | 5.0 | Ethylene-tetrafluoroethylene copolymer |
| 275/0.325 | 275 | 0.325 | Nylon |
| 372/2.16 | 372 | 2.16 | Perfluoro (ethylene-propylene) Copolymer |
| 372/5.0 | 372 | 5.0 | Perfluoroalkoxyalkane |
| 125/2.16 | 125 | 2.16 | Polycaprolactone |
| 265/12.5 | 265 | 12.5 | Polychlorotrifluorethylene |
| 300/1.2 | 300 | 1.2 | Polycarbonate |
| 265/12.6 | 265 | 12.6 | Polymonochloro trifluoroe thylene |
| 230/2.16 | 230 | 2.16 | Polypropylene |
| 250/2.16 | 250 | 2.16 | Polyterephthalate |
| 230/21.6 | 230 | 21.6 | Poly(vinylidene fluoride) |
| 315/5.0 | 315 | 5.0 | Poly (phenylene sulfide) |
| 220/10 | 220 | 10 | Styrene acrylonitrile |
| 190/2.16 | 190 | 2.16 | Styrenic Thermoplastic Elastomer |
| 190/2.16 | 190 | 2.16 | Thermoplastic Elastomer-Ether-Ester |
| 230/2.16 | 230 | 2.16 | Thermoplastic elastomers (TEO) |
| 230/21.6 | 230 | 21.6 | Vinylidene fluoride copolymers |