Ensure Corrosion Resistance Of Products With Fog Testing Chambers
Diffused nickel plating is the best type of coating that offers better erosion resistance as compared to another type of coating components. Selecting the right material and protective plating is significant when a product need to be used in an open environment. In this case, it's completely critical to evaluate the quality of a material or product with a particular end goal to verify that it will work efficiently in its workplace. For this, Salt Spray testing is really helpful.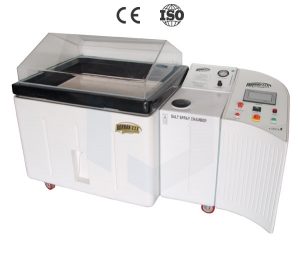 Ensure the Reliability of the products with Salt Spray Testing
The assurance to test the product reliability is absolutely critical. Without genuine testing, you have to face the risk of the product failing, and that is not just irritating, but expensive too and possibly unsafe as well. Products that disappointment at the time of usage could likewise possibly harm the organization's name and the manufacturers have to compromise with their position which they set in the global market.
Corrosion Testing
Salt or Fog Spray testing is a standard test system to check the rust resistance of coated samples which may be liable to suffer the deformation due to the salt erosion. The salt spray test is an accelerated erosion test that creates a corrosive environment for the coated specimens to foresee its suitability being used as a product with an extremely protective finish. It produces saturated water vapor and salty environment that contains sulfur dioxide, empowering us to examine the sample resistance, accordingly to ensure the lifespan, quality and reliability of the products.
Measure the Rust Resistance with Fog testing Chambers
The Fog testing chamber or the salt spray chamber is the best testing instrument which is widely used to accelerate the process of erosion. The instrument explains that instead of performing a test on a product in an open environment and natural conditions, it is good to carry out the test in the laboratories by creating natural weather conditions inside the chamber. The test with the Fog testing chambers can be performed within a short span of time whereas the test in the natural environment requires a long time to judge the effect of the salty environment or fog on the product.
Testing the Metal Products with Sulphur Dioxide
Sulfur dioxide testing is mainly used in production houses to test the industrial products, particularly metal products which can lead to corrosion. One of the best testing techniques to measure the resistance of metal products to corrosion is Salt Spray Test. to perform accelerated corrosion test, Salt Spray Testing with Fog Testing Chamber is an approved strategy to perform corrosion tests on metal products.