The ASTM A125 standard test method is considered to be the most proficient testing procedure for helical heat-treated steel springs. This testing method can help the manufacturer in deciding the production criteria and deliver best results to the clients. 
These types of springs are typically used in the transportation industry for suspension systems and can also be seen in certain types of industrial machinery. The key characteristics which are evaluated are the diameter of the bar, the height of spring, number of coils. 
Know more about ASTM standard spring tester suitable for your industry, contact our experts
ASTM A125 testing method
ASTM A125 specifies the deflection load of up to 85% of the original height. In this test, the steel springs are compressed to the required amount of deflection. In case of industrial springs, which are quite tough, a high capacity compression tester is often required. When springs are compressed, they store a particular amount of energy. Hence, proper safety precautions must be taken. A safety cage can be used for maximum protection.
Under A125 there are several calculations mentioned. Solid Capacity is represented in lbs. and is a measure of the capacity of the spring to withstand and store a compressive force. The solid height is defined as the total height of the spring when it is subjected to a compressive load that causes all adjacent coils to touch. Once all of the coils are touched, the spring cannot be compressed any farther, therefore solid height is a maximum value.
Spring Tester complying with ASTM Standards
Presto brings you a high-quality spring tester to evaluate the spring quality as per world trusted standards. The springs have wide use in various applications such as automobiles, aircraft, industrial machines, etc. Therefore, the quality of the springs is crucial. Testing of springs helps in determining the various properties such as elongation and yield strength of the materials. The spring tester is a useful and beneficial testing instrument for the manufacturers, suppliers, and exporters of different industries. 
Key Features:
• High accurate micro-controller based system controls
• Peak Hold facility available (Max. value save in memory)
• Bright LED display
• Feather touch controls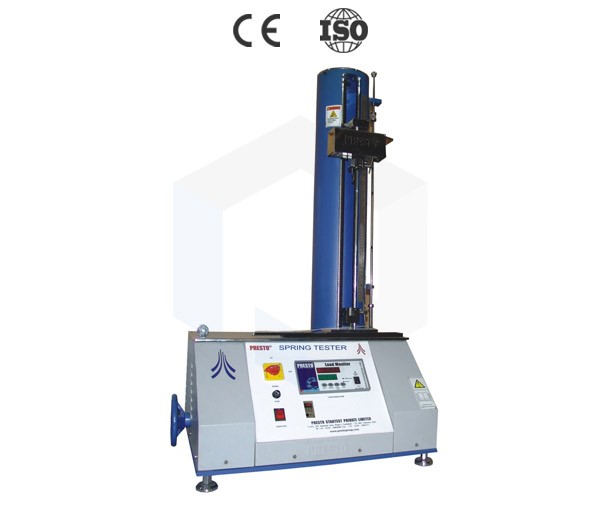 • Specially designed gripper jaws for holding fragile samples. 
• Wintest one way communication software.
• Graph of Force vs Elongation can be retrieved
• Easy Data management
To know more technical details or get a quote, kindly fill up a quick form and get a call back from our executives on your query
you may also like