TheASTMD3786 /D3786M -13 standard test method is used to determine the diaphragm bursting strength of nonwoven, woven and knitted fabrics utilized by the most textile industries.
If the actual performance does not correlate with the test result, D3786 test method can be accepted for testing the bursting strength of the textile fabrics because the method is applied extensively in the acceptance testing.
If values do not match when test method for acceptance testing is used by the purchaser and supplier, determine the statistical bias (if any) between the laboratories of purchaser and supplier with a comparison based on test samples randomly drawn from one sample of material.
The test specimen is clamped to prevent the kind of load transfer and stretch occurring when nonwoven fabrics and knitted goods are worn. The test method includes measuring the resistance of textile fabrics to bursting with the help of a hydraulic or pneumatic diaphragm bursting tester. The test methods are also used for woven industrial fabrics and stretch woven.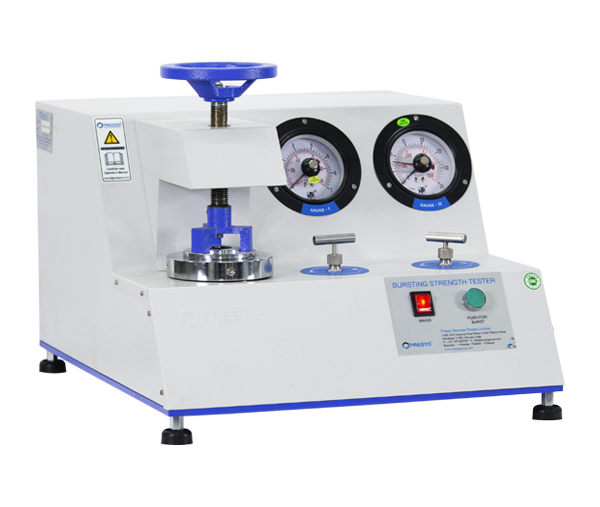 Textile Bursting Strength Tester complies with ASTM D3786 Standard
The  bursting strength tester is used to measure the quality of a textile material by applying a hydraulic pressure to a circular area of the sample through the rubber diaphragm. The maximum bursting value is indicated by the digital indicator and helps to determine the quality of the material. There are two clamps to mount the sample material, which is tightened with the help of geared handle. The increasing hydraulic pressure is applied up and down.
To know more information about its features, price, and technical specifications, give us a call/WhatsApp at +91 9210903903 or email us at info@prestogroup.com.
you may also like