Tetra Pak is 6-layers packaging material used for storing edible goods. They are designed in such a way that content packed inside should remain hygienically fresh and contamination free. It is believed that 6 layers of packing are enough to be a strong barrier against environmental conditions. Different tests are performed to check their integrity. To ensure the endurance of the pack, there are many contributing factors which are considered.
Different environmental conditions for which a tetra pak is tested; 
Humidity

Temperature

Water Penetration
How Humidity Impacts the Packing? 
Packings show volatile behaviour in the humid environment. Prints start to fade off, adhesions start to lose, layers start to get peeled off. How a packet would behave when exposed to severe climatic conditions need to be assessed beforehand. In extreme conditions, the tetra pak start to lose many properties. This might start to impact the joints of the packing. If these joints start to lose, the air will interfere with the contents. The puffed pack is the first thing that you notice about the defective packing. Contamination of contents is very common in the case of defective packing. However, strict measures are taken by the companies to avoid any effect of humidity on the packing. 
How to Test the Resistance of Packing Against Humidity?
An environment chamber is a very common instrument in the beverage industry. Humidity chamber helps in knowing the behaviour of the packing in the extremely humid conditions. This is important to assess as packing may need to withstand the conditions of the manufacturing plant, warehouse, transit and retailer's place.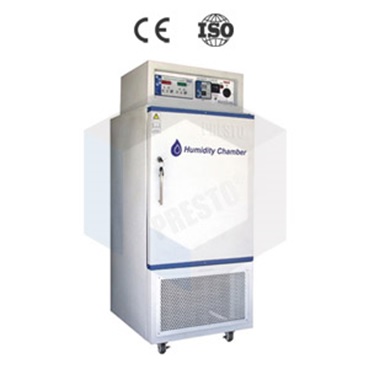 Standard Operating Procedure
The humidity chamber work on the humidity range of 65% to 95%. A test sample is placed in the chamber for some hours, depending upon the test requirements. The device is equipped with double door protection with 1 glass door. This helps in retaining the temperature and humid conditions inside the chamber. The glass door allows the operator to peep inside the chamber while not disturbing the simulated environment inside. 
There is an atomiser inside the chamber that creates the fog by taking water supply from the reservoir tank. The tank has a capacity of 8-10 litres which helps in attaining non-stop test run for hours. Equipped with an alarm system to alert the operator when water goes down beyond specified limits. 
Humidity chamber offered by Presto is available in multiple models, allowing efficient computer connectivity and data logging. 
you may also like