The manufacturers in packaging industry need to provide the best quality and strength of packaging to the clients so that they can rest assured of the best safety level of their products. It is a well-known fact that the bursting strength of a packaging material is highly decisive in defining the quality and suitability of a material for packaging of a particular product. The packaging industry needs to determine the exact value of bursting strength of a material so that it could be ensured that the right material is used for right type of packaging and for this a highly accurate and efficient testing instrument called Bursting strength tester.
Things to be considered
If you are also involved in manufacturing of packaging materials and are planning to buy a bursting strength tester, you need to be a bit careful so that you buy the most suitable instrument for your industry.  The biggest problem that people face while looking a bursting strength tester is that there are so many options for the instrument available on the market that it becomes hard to choose one for your industry. Here are some of the points you must keep in mind when looking for the most suitable bursting strength tester for your company.
Type of Instrument
There are many different sorts of equipment and instruments available in the market that you can avail according to your requirements. There is Analogue model, digital model, and computerized model.  The analogue model gives you the reading of the test data on an analogue gauge whereas the digital model gives you test results on a digital display. The computerized model allows you to connect the instrument to the computer. All the above models can used for efficient testing. The only thing that might affect your decision is your budget. Off course when you opt for better and more features, it will cost you more money. Hence, you can choose any of the models available according to your budget.
Mode of Operation
There are bursting strength testers with two different modes of operation that are hand operated and motorized. In a hand-operated instrument, you will have to apply the force on the test specimen manually but in a motorized model, the force is applied by a motorized drive. It is advised to go for the motorized model as it will allow you to apply constant load and also eliminated any scope for human errors.
Mode of Clamping
The clamping of the test specimen is an important aspect that needs to be kept in mind while buying your instrument. In the modern industrial market, bursting strength tester is available with both manual and pneumatic clamping. The pneumatic clamping will always be preferred over the manual clamping as pneumatic clamping gives a firm grip on the test specimen and also helps in preventing slippage. In manual clamping, it is difficult to decide how much gripping force needs to be applied on the specimen. The decision of buying a manual or pneumatic clamping also depends on the budget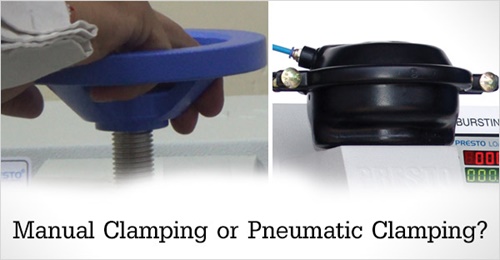 Accessories
Most of the manufacturers offer a wide assortment of accessories with the instrument such as rubber diaphragm that is used for testing along with that there are also additional spare parts like screws and fuses offered by some of the manufacturers. You should enquire about the accessories offered by the supplier or manufacturers so that you get the best deal for your company.
Prefer the Standards
Make sure that the equipment you buy is in compliance with all the national as well as international standards related to your testing procedure. You can also ask them for standard number. Buying a testing instrument with international standards compliance will ensure that your products are internationally compatible.
Go for the brand
The manufacturers from which you buy your instrument must have a good name and reputation in the market in terms of quality, and services. Your instrument will also need regular maintenance and calibration and most of the reputed manufacturers like Presto Stantest offer efficient maintenance and calibration services for very reasonable costs. Also, they offer you efficient after sales services and support for a pleasing business experience. Of course, you might have to pay a bit extra for a branded machine but when it comes to the quality and efficiency, you should compromise them over the little difference of price.
Look for Warranty and Certifications
The instrument you buy must come with a certain period of warranty and should also be provided with proper certifications so that you know that the testing instrument you are buying is in compliance with all the standards and will serve you for a long time without problem.
When you keep all these all these points in mind, it is assured that you will find the best deal for your industry and will be able to buy the most suitable and efficient bursting strength tester for your company.