Presto Stantest Pvt. Ltd., the premier Manufacturer and Supplier of Quality Testing Equipment, has won the Prestigious SIES SOP Star Award 2018, for achieving excellence in Design & Development of Packaging Evaluation Equipment, Torque Tester (Caps – Closure). The Award function was held on 5 January, 2018 in Mumbai.
The SIES School of Packaging organized the SOP STAR AWARD to recognize the efforts of industries in designing & developing new material, machinery and technology in the field of packaging.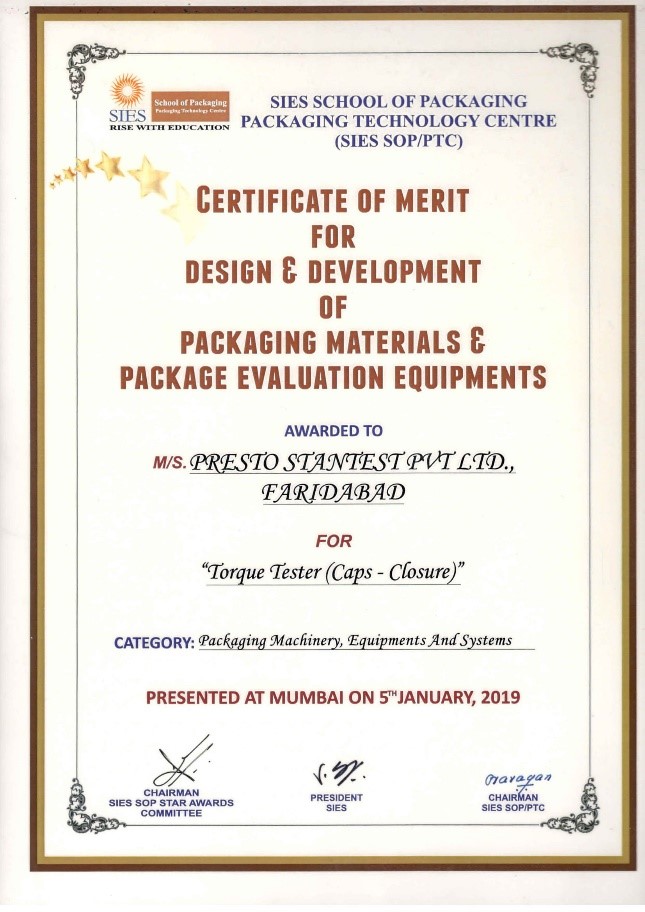 Torque Tester is an ideal testing instrument for measuring the force or torque required to open or close a closure cap. It has a wide application in Packaging and PET Bottle Industry for assuring the quality of a closure system. Presto Group offers various range of torque tester including Analogue Model, Digital Model, and Computerized Model. Their machines are designed as per international test standardsand deliver high precision test values.
The Presto Torque Tester can be used for PET bottles of distinct shape and sizes. It is incorporated with adjustable and strong clamping pegs, which ensure zero slip gripping support. It also has a built-in Calibration facility for ensuring accuracy and reliability of results. The peak value of torque is automatically recorded in the memory with a capacity of up to 9 sample readings. A highly sensitive torque sensor is used along with a safety lock pin to eliminate additional force while conducting a test.
For more than 30 years, Presto Stantest Pvt. Ltd. has been tirelessly contributing towards design and development of unique material & packaging testing equipment to fulfil the testing needs and requirements of industries, worldwide. It is an ISO 9001:2008 and ISO: 14001 OHSAS: 18001 certified company, besides being a National Award Winner for Quality Products 2015-16, bestowed by The Government of India. Their product-range finds wide application in Quality control in verticals like Packaging, Coating, Plastic, etc.
The SIESSOP Star award and recognition is another feather in its cap.